Desert Buggy in Dubai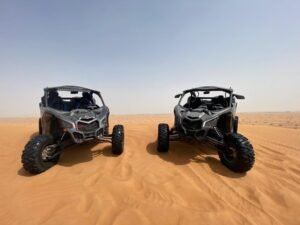 Have you ever wanted to experience the thrill of driving a desert buggy in Dubai? Now you can go with Dubai buggy rentals! With our desert buggies, you can explore the dunes of Dubai in style. Whether you're looking for an adrenaline-pumping adventure or a leisurely sightseeing tour, we have the right package. So, what are you waiting for? Book your best dune buggy Dubai rental today!
Experience the thrills of Desert Buggy Dubai Desert tours with Rent Extreme Dune Buggy Dubai. Our experienced guides will take you on an unforgettable journey through some of the world's most spectacular Red Dune landscapes.
We guarantee you'll have a thrilling and safe ride in our dune buggies as you explore the vast desert. Whether it's a one-Hour or 30-Mins Ride, dune buggy, or sandboarding Dubai, our professional staff will ensure your adventure is both memorable and enjoyable.
With our custom-built Dune Buggys, we can provide top-quality service while ensuring that your experience exceeds expectations. So join us for a day in the sun, and show us why Dune Buggy Dubai Desert Tours have become so popular!
What is a desert buggy, and why would you rent one in Dubai?
A desert buggy is an off-road vehicle designed specifically for desert driving and racing. Renting a desert buggy in Dubai can be an exciting way to explore the vast dunes and get close to the region's iconic wildlife. Whether you ride solo or join up with one of the many guided tours available, driving a powerful buggy across the Arabian desert can be an exciting experience you won't forget. Plus, you'll also get unbeatable views of Dubai's towering skyscrapers. Overall, renting a desert buggy in Dubai is one of the most unique and thrilling ways to discover everything this fantastic city offers!
How to find the best desert buggy rental company in Dubai
Finding the best desert buggy rental company in Dubai can seem daunting; however, with a bit of research and familiarity with the city, you can find the most reliable and enjoyable option. When considering your options, be sure to take a look at each company's reviews to see what others enjoyed or disliked about their experience. Additionally, getting recommendations from locals or other travelers who have toured the desert in a buggy may provide helpful insight. Lastly, you want to be sure that you rent from a company that offers authorized drivers and comprehensive insurance should any issues arise during your excursion. With these few considerations in mind, you can be sure to make the perfect choice for your desert buggy adventure!
What to expect on a desert buggy tour in Dubai
Dune Buggy Dubai Price is a thrilling experience like no other! You will be adrenaline-filled when you enter the dunes, driving these powerful all-terrain vehicles and racing through winding passes. You will be accompanied by a friendly guide who will provide you with all the necessary instructions for handling your Buggy and navigating the beautiful terrain of the desert. Along the way, enjoy breathtaking views of this charming city from high hilltops, snap photos of its golden sunsets, and visit traditional Emirati settlements. End your trip with a fantastic camp under the stars – sip hot tea or coffee while listening to Arabic music and gaze endlessly at some stunning night-time views of sparkling stars in complete serenity. A desert buggy tour offers something unique to travelers looking for a one-of-a-kind experience in Dubai, so don't miss it!
Tips for driving a desert buggy in the dunes of Dubai
Driving any vehicle in the dunes of Dubai can be a thrilling experience. Driving a desert buggy takes the adventure to a new level and requires special tips to make your journey enjoyable. Make sure you are familiar with the terrain, watch your speed, and know how to handle slopes. Remember that driving in reverse is essential when maneuvering challenging trails, and learn to control your brakes and balance yourself on the sand. Allow plenty of room between other vehicles, as your Buggy In the Desert may lack basic safety features like roll bars and working brakes. Wear appropriate shoes (no flip-flops), use sunscreen, pack water during summer months, don't drive too close to vegetation, have maps or GPS on hand, keep your headlights off until after sunset and be patient – learning how to ride desert buggies safely will take time! Have fun but remain safe!
The best places to desert bugging in Dubai
If you want to experience a thrilling adventure in the heart of the picturesque deserts of Dubai, then a desert buggy is an activity to consider. From Mega Xtreme in Al Ain, which offers an array of gliding and drifting activities, to Sky Motorsports in Dubai Marina, which has a wide selection of buggies for hire, there are plenty of places to choose from for your desert-buggy fix. As you cruise through the sandy dunes at high speed atop these vehicles – feeling the roar of their engines as they ride over temporary ramps – you'll get a real sense of adrenaline. And after an exciting day filled with sand bashes, don't forget to stop and take in some of the breathtaking landscapes that make up this fantastic Emirate.
Renting a desert buggy in Dubai is a once-in-a-lifetime experience that you won't soon forget. Whizzing through the dunes, catching air, and enjoying the atmosphere of an exotic country are part of the appeal of the desert buggy in this exciting destination. When looking for a rental provider, research, so you know exactly what to expect and get the best experience possible, and when venturing out on the dunes of Dubai, remember to take it slow and enjoy the Ride. With some knowledge and preparation, taking a desert buggy tour promises an unforgettable journey full of fantastic views and thrilling thrills. So, grab your desert buggy and explore some of Dubai's most stunning landscapes in style!
Dune Buggy Dubai is one of the best ways to explore and enjoy the beauty of the Arabian desert. Whether you're looking for a thrilling adventure or just a relaxing day out, Dune Buggy Dubai offers plenty of exciting activities and tours to suit every taste. Whether you're an experienced off-roader or just getting started in this exciting sport, dune buggy and sandboarding Dubai has something for everyone!
If you're looking for an adrenaline-pumping dune buggy experience, Dune Buggy Dubai offers a wide range of rentals and guided tours. From gentle slopes to exhilarating drops, their experienced guides will show you the sights while allowing you to explore at your own pace. You've been assured a safe and enjoyable ride with their high-performance buggies and professional staff.
Dune Buggy Dubai also offers guided safaris and desert tours for those looking for more than just a dune buggy experience. From camel rides to ATV excursions, their knowledgeable guides will show you the best of what the Arabian Desert offers in terms of flora and fauna. If you're looking for some serious adventure, they even offer overnight camping trips to explore the area in depth!
No matter your preference, Dune Buggy Dubai TripAdvisor guarantees a safe and unforgettable experience with an unbeatable selection of activities that will make your trip one to remember. With their high-quality buggies and experienced