Dubai's skyscrapers, beaches, ports, and Dune Buggy Dubai Tours make it one of the world's best holiday destinations. Dubai is the most populated and adventurous city in the United Arab Emirates (UAE). As much as Dubai is well known for its glitz and glam, there is so much more to this city, including dune buggy rides, buggy Dubai and desert safari with quad biking, and it's just the tip of the iceberg.
Dubai has so much to do, making it a top destination for adventure seekers and luxury vacationers. Not only is Dubai famous for its adventure but also for its excellent street food, which has made Dubai a global phenomenon and famous worldwide in addition to its adventure credentials. Here are a few thrilling adventures you must experience in Dubai while you're there.
Are you taking a holiday to Dubai? Here are some exciting adventure activities you can enjoy when you visit Dubai. These adventures will help you select the activities you want to experience and will take your holiday tour to a new level. We offer you an exclusive Dubai tour package that will allow you to share all of these adventures in Dubai in a customized tour package provided by Desert Buggys.
Experience desert safaris, indoor skydives, underwater zoos, and more as you prepare to enter the world of adventures. You must include the Best Adventures in Dubai in your itinerary of your Dubai Tour, so let's look at what they are.
Dubai Desert Adventure: Why are visitors so enchanted?
The desert landscape around Dubai is undoubtedly one of the most amazing things about the city. We all understand this. Besides this being a large area of land, it is also unique due to the red dunes that cover much of it and is ideal for a Dubai dunes buggy tour. Tourists, ex-pats, and locals have flocked to the city, in addition to the organized terms and other adventurous activities offered by private tour operators.
A nicely set up Bedouin-style camp offers dune bashing, quad safaris, desert buggy rides Dubai, and tasty food and entertainment. Therefore, plenty of fun, adventure, sumptuous food, live musical performances, and leisurely enjoyment highlights Dubai's desert adventure that attracts international tourists worldwide.
Top Thrilling Experiences You Can Have in Dune Buggy Dubai Tours
1.    A great way to have fun is by Sand Boarding
Among the many adventure sports you can take part in in Dubai is Sandboarding which is the favorite among many adventure seekers. Sandboarding can be compared with snowboarding or skiing, but there is a significant difference between them: they are done in a sandy desert at the same time as snowboarding or skiing. The city's desert is a glorious place for sliding and gliding on the sand of the desert, which is a truly surreal experience. A minimum age requirement is 13 years old to enjoy this sport. Sandboarding can hardly be experienced anywhere other than Dubai, and there is no better place to do this than Dubai.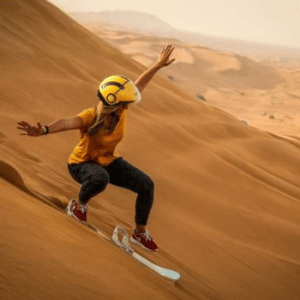 2.    Taking part in dune bashing
There is no doubt that dune bashing is one of the most extreme and fun activities you can do during your Dubai honeymoon trip. If you are visiting Dubai for your honeymoon, then you must include this in your Dubai honeymoon package. Dune bashing is one of the best activities for families in desert safari buggy Dubai because there is no maximum age limit for this fun activity, making it one of the best activities for everyone to enjoy. In this adventure ride, a Hummer H2 is one of the vehicles commonly used as part of the transportation system.
Two sessions are available for dune bashing: a morning session and an evening session. Starting at 9 am and lasting until noon, the morning session begins at 9 am. You must arrive at the campsite by 4 o'clock during the evening session. You can also participate in sandboarding, camel safaris, and dune bashing in the Dubai Desert. There is also the possibility of watching the beautiful sunset in the desert while you eat a fantastic barbeque dinner with Arabian coffee.
3.    Dubai Dune Buggy Tours
A dune buggy Dubai desert tour is the best way to conquer the sandy terrain if you want to challenge the sand yourself. The thrill of this activity will be enhanced by the fact that you will be riding a powerful 1500 cc vehicle. While the desert safari Dubai dune buggy is a powerful machine, it is still a safe and reliable vehicle to ride on the dunes, despite its high power. Many features make it the ideal vehicle for ensuring maximum safety for the driver. Booking the dune buggy adventure with a reputable tour operator is essential to make it safer and more exciting.
4.    Dubai Desert Quad Biking – Experience the thrill of quad biking
It is no secret that if you are an avid motorsports fan, you will love quad biking in the desert. You can also use dune bash on a quad bike while wearing safety gear, goggles, and a helmet while riding your quad bike down the dunes. Guided by an expert, you'll learn how to handle your all-terrain bike on sandy terrain. Accelerating and zooming over the desert landscape will be thrilling as you throttle the accelerator.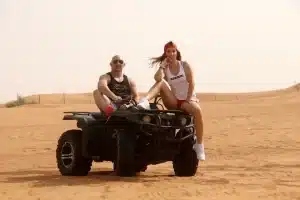 5.    Adventurous Desert Safari
The classic desert safari is one of the most popular and unbeatable adventures you can experience in Dubai. In Dubai, you can experience the thrill of having a roller coaster ride as you drive through the red dunes and experience a roller coaster ride. This must be one of the most thrilling adventures everyone knows about, and if you are a car enthusiast, this activity is for you, as it is an exciting buggy adventure in Dubai.
Conclusion
You are lucky if you travel to Dubai, where you can enjoy fabulous attractions, splurge on shopping, and experience buggy adventures in Dubai at their best. The experience of a desert adventure can be enjoyed in several ways with Desert buggys' amazing deals. For those who would like to go on an adventurous trip that is affordable, dune bashing, quad biking, and buggy riding would be the best options for them.